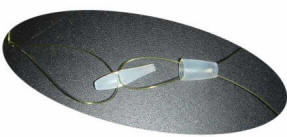 Simple to adjust line connector Code Nos:AC107 Osprey Line adjuster a quick and simple way to create a leader to suit float .
Special gadget to enable on site adjusting of line to fit floats
Osprey Line adjuster comes in a pack of 10 sockets
adjust leader line length, adjust sinker position,make a 3 way line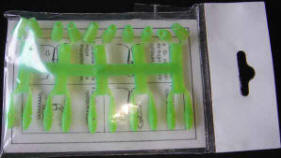 Handy tool to convert your loose powder bait into a hard solid pellet.
Once the powder pellet is set it will be hard and solid.
Ideal as a slow release bait spreader.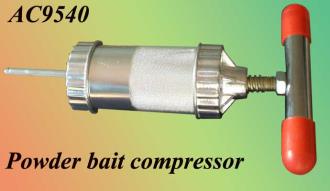 Model ACB95-
Made from machined aluminium alloy.
Length; 95cm .dia. meter of chamber see below
ACB95-38-38mm dia
ACB95-54:54mm dia

Keeper for rigs line

Code
Dia.
Wall thickness
AC4-1
4mm
0.5mm
AC6-1
6mm
AC8-1
8mm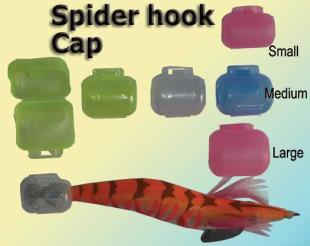 Spider hook cap
ACS2114-small
Length:21mm
Dia::14mm
ACS2418-Medium
Length:24mm
Dia::18mm
ACS2723-Large
Length:27mm
Dia::23mm



Code ACP
Hook protector for use on treble hook
min order qty 10,000 and above
fits hook from #1/0 downwards
ACP1--for hooks #8
ACP2--for hooks #6 to #4
ACP3--for hooks #3 to #2
ACP4--for hooks #1 to #1/0
ACP5--for hooks #2/0 to#3/0
in bulk of 1,000pcs /pk


AC61050BAB: rod pod for bite alarm.
FRONT has a screw stud to accommodate standard bite indicator's male screw. 1050mm x 2 section
closed length: 680mm. Female adapter 8mm metric thread,
will accept any stand alone bite indicator.
Special features: rear stand has a rocking rod rest,
to ensure that the rod sits squarely even when the front
and rear stand is not of he same level.
Or when the stand is not vertical.



AC38 Fluro glow rod support/pod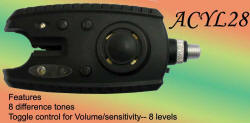 8 tone setting for sensitivity. 8 level volume setting.
Stainless steel stud to fit on rod holder
Toggle switch. Fully water proof
Small and compact 2.5mm jet for sensor



Fully waterproof :Model ACYL64( 4+1) and ACYL63( 3+1)
4+1 or 3+1 extra long distance wireless bite alarm
Night light. 4 tone toggle setting for sensitivity
4 levels volume control.
Led light colors on transmitter corresponds with light color on receiver
4difference led light colours-1 color for each transmitter.