Start flashing only when in water.
Led light goes off when out off water.
Small enough to be inserted into any soft gel squid or swim bait
Can be use as a stand-alone light probe-- casing has a slot for line
to pass through
High intensity penetration light.
Effective for water with low light .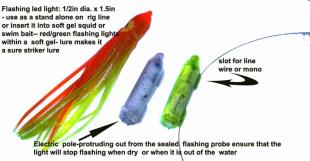 Osprey led light in green/red led light color
Code no LNR50-1( 1pc/pk or LNR50-4( 4pc/pk)
Length: 12mm dia x 60mm
Body colour; pink/blue/green
packing either in 1pc/pk or 4pcs/pk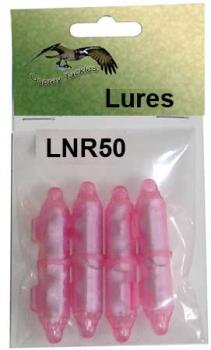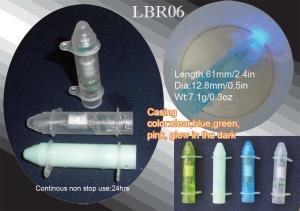 LBR06
Length:61mm/2.4in. Dia:12.8mm/0.5in
Flashing colors in blue/red/green and clear light.
Auto off system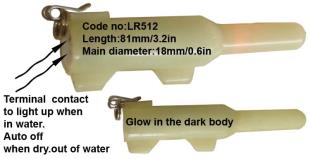 LR512: red light or multi colour cycle
length:81mm/3.2in. Dia:18mm/0.6in
Light on when in water/wet and off when dry.
Glow in the dark body.
ACHFL112


110 x 43mm dia




Or 4.3in x 1.7in dia.




Max depth: 700m/2200ft.




Light: red./green/white and

multi color. Flashing mode.
ACWR526


185

x 46

mm dia




Or 7

.3in x 1.8

in dia.




Max depth:

1

00m/320

ft

.




3 modes : fast flashing. slow flashing and steady color ; red/ green/ white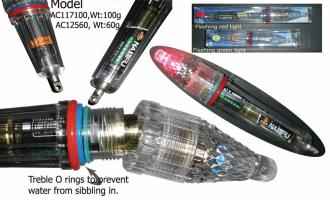 Flashing Led light with treble o rings to prevent water from sibling in to led light.
Model :

AC117100

: length: 7.0in/175mm. Wt:100g/2.8oz


AC12560

length: 5in/125mm. Wt:60g/2.2oz
Available in either Red or Green light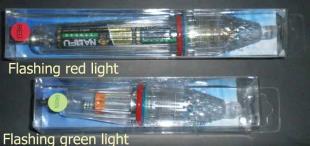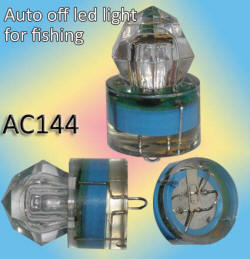 AC144

: AUTO off , when dry or when out
of the water. Overall length 4cm/1.9in
Flashing light in clear/red/blue/green.
Seal for battery. Casing: Super hard Poly carbonate.
Capsule diamond shape magnified the light